Information Technology Infrastructure Library
Overview
Giving the increasing role of I.T in achieving corporate aims, the Information Technology Infrastructure Library (ITIL®) was established to provide the foundation for quality I.T. service management (ITSM). It is a set of best-practices that describe procedures, tasks and checklists, which are not organization-specific, but can be used by any organizations to establish an internationally recognized level of competency.
ITIL® provides the foundation for quality ITSM through documented and proven processes that covers the entire Service Lifecycle which allows organizations to establish a baseline from which it can plan, implement, measure and improve in a well controlled and systematic way.
This instructor-led course is specially designed for participants to attempt the ITIL® Foundation Certificate level. It will introduce I.T. professionals to the ITIL® 4 terminology, structure and basic concepts and an understanding of the I.T. Good Practice. Participants will understand how the 5 Service Lifecycles work, namely Service Strategy, Service Delivery, Service Transition, Service Operation and Continual Service Improvement, and the relationship between those Lifecycles.
About the Certification
The APM Group became the Official Accreditor for ITIL® with effect from 1st January 2007
ITIL® 4, which is the latest version, was was introduced in Nov 2018
ITIL® is aligned with various international quality standards including international standard ISO/IEC 20000 (IT Service Management Code of Practice)
Multinational corporations practicing ITIL® include Microsoft, IBM, Hewlett Packard, Disney, Telefonica, Barclays Bank, HSBC, Standard Chartered Bank, Citibank, British Airways, NASA, UK Ministry of Defense, UK National Health Service and many more…
Training Outlines
What is ITIL® and IT Service Management?
The Seven Guiding Principles of ITIL® 4
The Four Dimensions of Service Management
Define key terminology & concepts of Service Management
Service Value Systems
Continual Improvement
Relationship among Event, Incident, Problem, Change, Change and Service Desk
Overview of ITIL Practices
Understand the ITIL® 4 Certification Scheme
Group discussion and exercise
Exam preparation
Training Highlights
20 hours of instructor-led professional training
Course will be delieverd by top-notch instructor – one of the few top ITIL® 4 Expert Certificate holders in Hong Kong, who also have accredied with all modules at Lifecycle Stream and Capacity Stream
Emphasis will be placed on the understanding of applying the ITIL® principles for:

Enhancing customer's satisfaction and meet customer's needs
Minimizing risks of I.T. service requirements
Reducing cost for developing procedures and practices improvement
Improving communication and information flows between I.T., customers and users
Assuring staffs are equipped with basic standards and appropriate guidance for a quality approach of I.T. service management and provision
Achieving greater productivity and better utilization of skills and experience
Examination Highlights
Closed book with 40 multiple choice questions to be answered in 60 minutes
Examination will be held on the last day of the training program, which is set by EXIN, one of the licensed Examination Institutes (EI) of the Official Accreditor, APM Group
The passing mark of the examination is 65% (26/40)
Chartered Requirements
No credit or certification prerequisite is required to register for ITIL® Foundation Certificate examination while the ITIL® Foundation Certificate is a prerequisite for further qualifications in ITIL®, including ITIL® Expert Certificate and ITIL® Master Certificate
The ITIL® 4 certification scheme offers a modular approach. On successful completion of the module, candidate will be rewarded with both a certification and a certain number of credits. For example, completion of ITIL® Foundation Certificate will be awarded 2 credits
There are three levels of qualifications within the ITIL® Qualifications scheme. The required modules and credits needed for each level is provided as follows: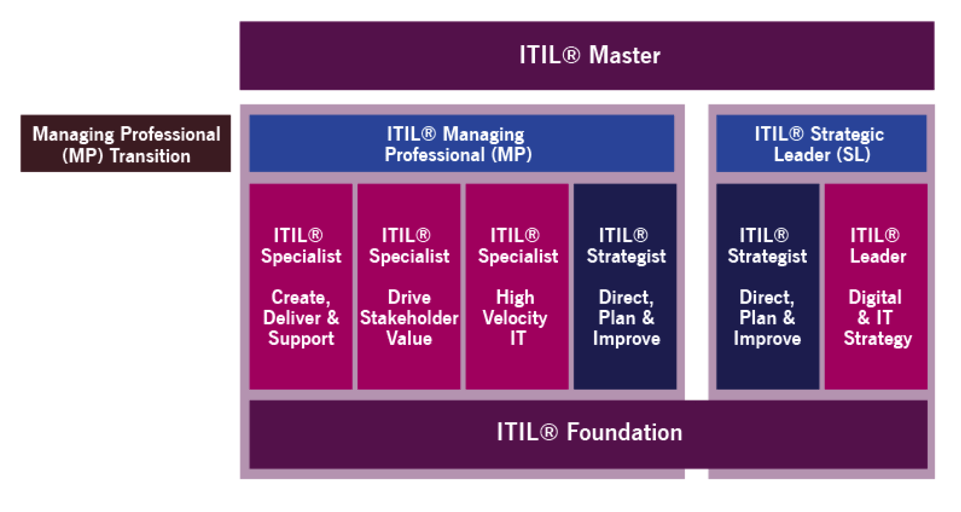 Trainer
Mr. William SL Cheng
ITIL® 4
ITIL® 3 Expert
ISO20000 Certified Consultant
ISEB Accredit trainer
Over 30 years of I.T. experience with MNCs in the Asia Pacific including:

IT Service and Support
IT BPO
IT Service Desk Operation
Data Storage Management
TIL Consulting and Implementation Experience